Meat Slicer, Electric Deli Food Slicer with Removable 7.5'' Serrated & Stainless Steel Blade, Cheese Fruit Bread Cutter
Order in the next
to get it by
4 Great reasons to buy from us:

Make your kitchen more functional with the Food Slicer. It's a simple way to slice your own meats, cheeses, breads, vegetables and fruit quickly and easily at home. With sleek design food slicer pairs nicely with just about any kitchen decor. It has a specialized curve design that allows for easy slice removal. A thickness-control knob makes selecting your cut thickness simple. The large, multi-purpose 7.5" stainless steel blade handles a wide range of food sizes and types. Remove the blade for effortless clean-up and maintenance. A strong 150W motor offers plenty of power.
Perfect for preparing lunches, deli trays and buffet food for entertaining, party etc..
Slicer pays for itself by allowing you to buy delis meats in bulk, slicing it when needed and then freezing the rest which saves time and money
Sliced meat exit behind the machine for sliced meat sliding out quickly
Numerical scale knob makes the adjustable plate to move back and forth and adjust the thickness of meat up to the 5/8 inch thick7.5" steel blade easily cuts through tough and frozen meats
Features:
1. Perfect for preparing lunches, deli trays and buffet food for entertaining, party etc..
2. Slicer pays for itself by allowing you to buy delis meats in bulk, slicing it when needed and then freezing the rest which saves time and money
3. Sliced meat exit behind the machine for sliced meat sliding out quickly
4. Numerical scale knob makes the adjustable plate to move back and forth and adjust the thickness of meat up to the 5/8 inch thick
5. 7.5" steel blade easily cuts through tough and frozen meats
6. Spiked meat holder maintains a firm grip for controlled slicing
7. Suction cup feet keep the unit stable
8. Slicing beef, venison, mutton, turkey, cheese, ham, bread, vegetable, fruit and other food
Specifications:
1. Color: Gray
2. Power: 150W
3. Voltage: 120V/60Hz
4. Blade Diameter: 7.5" / 190mm
5. Blade: Detachable Blade for Easy Cleaning
6. Adjustable Thickness Knob: 0-15mm
7. Blade Material: Steel
8. Overall Dimensions: (16.5 x 10.4 x 9.7)" / (42 x 26.5 x 24.5)cm (L x W x H)
9. Weight: 11.9lbs / 5.4kg
10. Transmission Mode: Gear
11. Material: Stainless Steel
12. Brand: ZOKOP
Package Includes:
1 x Electric Meat Slicer
1 x Instruction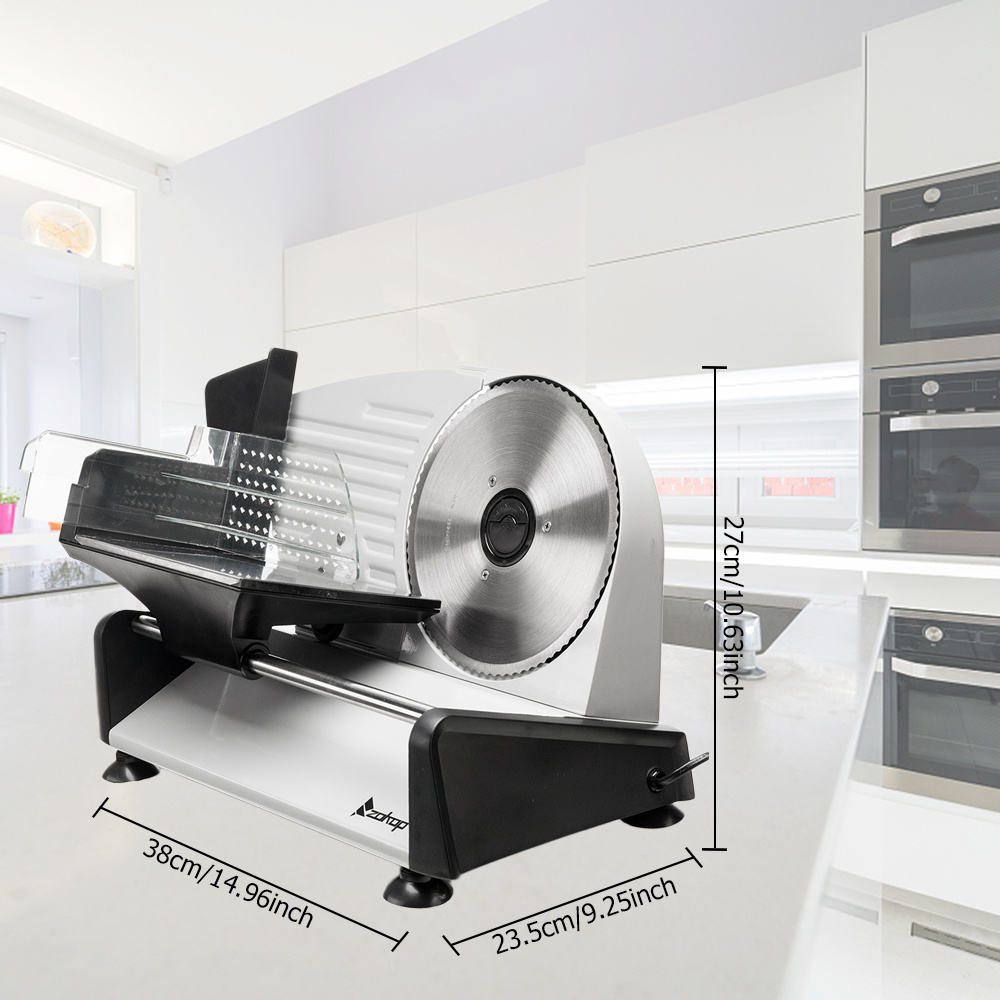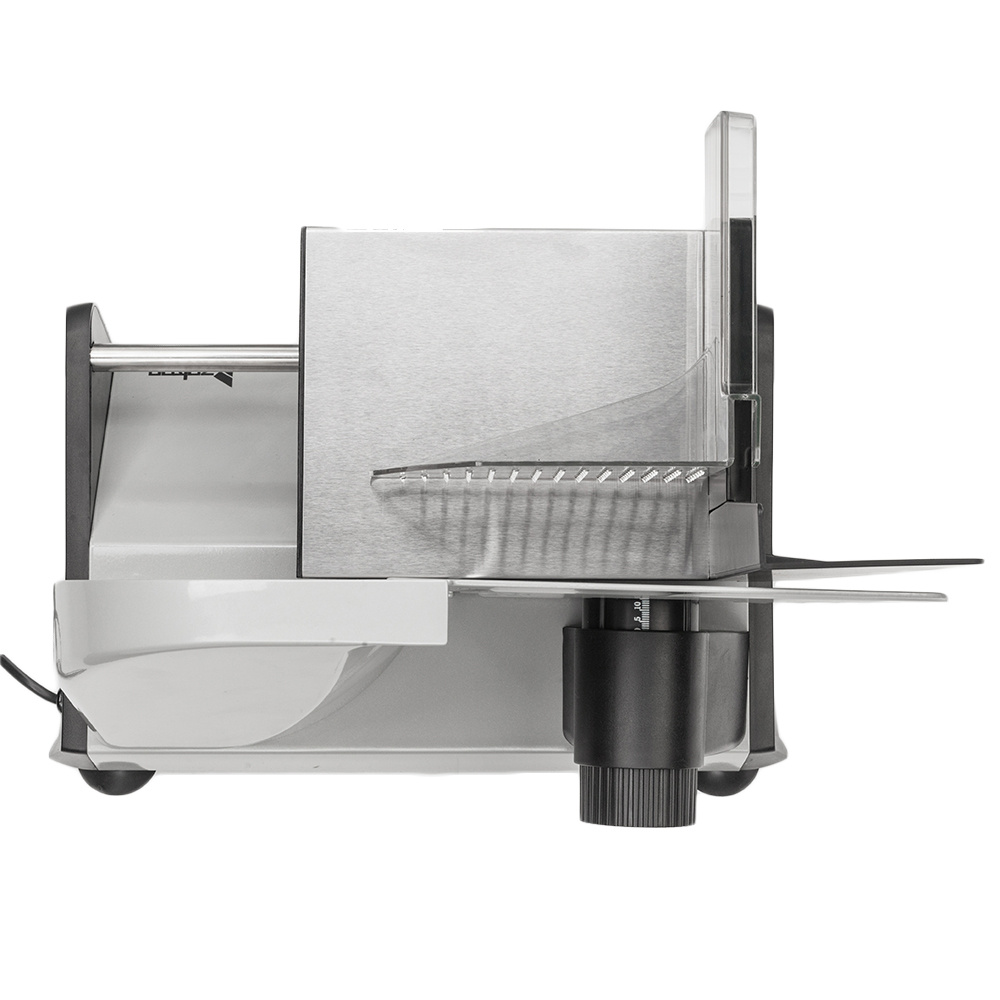 ---
---